Chinese Demand For Fish Maw (Swim Bladder) a consolidated businees in Uganda that could be replicate in Egypt and Morocco –
Fish maw is often viewed as a symbol of wealth and prosperity, and it's given out as gifts at important events and stockpiled as a speculative investment. It's one of the "four treasures" of Cantonese cuisine, along with abalone, sea cucumber, and shark fin. But the main reason fish maw is so desired is its supposed medical value. Because of its high levels of collagen and fiber, it's believed to promote healthy skin, boost the immune system, and aid digestion.
Fish maw is also often recommended in China for postpartum recovery and to reduce post-surgery pain. But because of overfishing in East Asia, China now imports the majority of its bladders from other countries, like Uganda. In Uganda, fishers compete for Nile perch in Lake Victoria and ship them to China for extremely high prices and fuels A $52 Million Industry in the Country.
From several species of large size fish, excellent swim bladders can be obtained, which will then be dried and destined for the Chinese market.
Fish Maw from Africa
The production and export of fish maw can have a positive economic impact on African countries by generating income, creating employment opportunities, and supporting the livelihoods of fishing communities.
Fish maw is harvested from various fish species, and the choice of species can vary by region. Some of the fish species commonly used for fish maw production in African waters include croaker fish, catfish, and Nile perch, among others. The quality and value of fish maw can vary depending on the species.
Fish maws are typically harvested by fishermen during their regular fishing activities. The swim bladders (fish maws) are extracted from the fish after the catch. This requires careful handling to avoid damage to the swim bladder.
After harvesting, fish maws undergo a processing stage and this involves:
Cleaning: Once extracted, the swim bladders are cleaned to remove any impurities, blood, or other tissues. This cleaning process ensures that the fish maw is free from contaminants.
Drying: Fish maws are then subjected to a drying process. Drying is essential to reduce moisture content and preserve the fish maw for storage and transportation. There are different drying methods, including sun drying, air drying, or mechanical drying. Sun drying is a traditional method where fish maws are laid out in the sun to dry naturally.
Grading and Sorting: After drying, fish maws are graded and sorted based on their size, quality, and appearance. Higher-quality fish maws typically command higher prices in the market. They are sorted into various categories or grades.
Packaging: The sorted fish maws are packaged for distribution and sale. They are often packed in airtight containers or vacuum-sealed bags to maintain freshness and prevent moisture from entering.
Fish maw production in Africa faces challenges such as competition with industrial fishing, infrastructure limitations, and quality control issues. Ensuring the consistent quality of fish maw products is crucial for maintaining a strong market presence.
In summary, fish maw production in Africa involves the harvesting, processing, and export of fish swim bladders, primarily for the Asian market. It has the potential to provide economic benefits to African nations, but it also requires sustainable fishing practices and adherence to regulations to ensure the long-term viability of this industry.
Countries' restriction for fish maw production
Sustainable fishing practices and regulations are essential to ensure the long-term viability of fish maw production. Overharvesting and illegal fishing can lead to the depletion of fish populations. Some African countries have implemented measures to regulate fish maw production and exports to address these concerns.
The specific countries that have implemented measures to regulate fish maw production and exports in Africa can vary, and the extent of these regulations can differ from one country to another. However, some African countries known for their involvement in fish maw production and export, and which have taken steps to regulate this industry, include:
Nigeria is one of the prominent African countries involved in fish maw production and export. The Nigerian government has implemented regulations to control the harvest and export of fish maw to ensure sustainability. These regulations may include licensing, size limits, and quotas.
Cameroon, located along the Gulf of Guinea, is another African nation with a growing fish maw industry. The government of Cameroon has introduced measures to manage and regulate the harvest of fish maws to prevent overfishing and protect fish stocks.
Senegal, on the west coast of Africa, is also known for its involvement in fish maw production. The country has implemented measures to regulate the fishing industry, including those related to the harvest of fish swim bladders.
Ghana, which has a significant fishing industry, has taken steps to regulate the harvest and export of fish maw. This includes licensing and monitoring fishing activities.
Madagascar has implemented measures to regulate its fish maw industry, particularly for fish like the croaker fish.
Mozambique, along the southeastern coast of Africa, is known for its involvement in fish maw production. The government has introduced measures to manage and monitor the fishery to ensure sustainability.
South Africa, with its diverse marine ecosystems, also has regulations in place to control the harvest and export of fish maw, with a focus on sustainable fishing practices.
A potential of Fish maw industry also from Egypt
This is a good circular economy practice that can also be implemented in Egypt where aquaculture produces large size Meagre (Argyrosomus regius), Sea Bass (Dicentrarchus labrax) and other species also from fish.
Fish maw from aquaculture fish is often considered a more sustainable option compared to fish maw obtained from wild-caught fish, as it reduces pressure on wild fish populations.
The fish from aquaculture could be gutted, value added and the swim bladder can be extracted – Gutting fish in aquaculture is an important step in preparing fish for consumption or further processing. Gutting involves the removal of the fish's internal organs, including the digestive tract, gills, and other internal tissues including the swim bladder.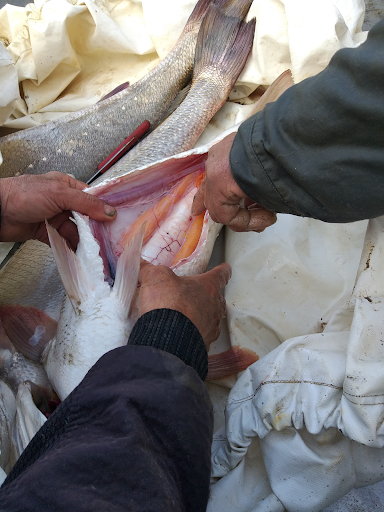 Chinese Demand For Fish Maw (Swim Bladder) a consolidated businees in Uganda that could be replicate in Egypt and Morocco