How the Blue Transformation of Aquaculture Can Affect Consumers Today – The definition of fish farming, or 'aquaculture' is the production of aquatic organisms–mainly fish, crustaceans, and mollusks but also algae–in confined environments monitored by humans where they are artificially reproduced.
Fish farming has become the fastest growing food production sector in the world – 5.8 percent since 2001. In contrast, livestock production, which is also a growing industry, has seen an increase of only 2.8% per year over the same period. A 5.8% sector increase might not seem like that much, but, according to data collected by the Food and Agriculture Organization of the U.N. (FAO), it corresponds to a global production increase of 527% between 1990 and 2018. As a result, as of 2013, more fish is farmed than is captured in the wild.
In particular, aquaculture development in Africa has shown significant growth. The constant increase in population is generating a growing demand for seafood products from the African domestic market, and environmental conditions make it possible to optimize year-round production. Natural resources, such as large lakes, rivers, and long stretches of coastline still currently unexplored, as well as the availability of manpower, make the African continent a region of great business opportunities for the seafood industry.
On top of the historical foundation and potential of the industry in Africa, there is also a genuine need. Today, over 70 percent of world fish stocks are fully exploited or are already overfished. For example, for decades the wild catch from Africa's Great Lakes has been declining, with the result that local markets increasingly rely on imported frozen fish, often of low quality. This is devastating because the FAO estimates that fish accounts for 22% of the sub-Saharan people's protein diet. For the poorest African countries, the share is more than 50%.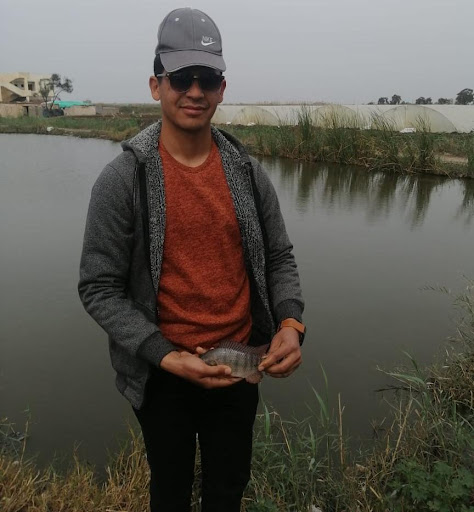 There continue to be consumer questions surrounding aquaculture practices and ethical complications due to generally long supply chains–the consumer and the trader are located far from the farmer–and the fact that aquaculture still remains poorly known. This article will help to clarify some of the mysteries surrounding fish aquaculture as well as some of the benefits and drawbacks that will hopefully allow consumers to choose food products that respect their health and make informed purchases at the seafood counter.
Does that Even Taste Good?
Farmed fish is often more affordable because the cost of harvesting, processing, and shipping is lower than wild-caught fish, but that doesn't necessarily mean that the flavor is affected negatively. For example, in the case of tilapia and catfish, wild caught versions might taste muddier in comparison to their farmed counterparts because in the wild they absorb substances from the environment. In contrast, the controlled aquaculture environment can produce a more consistent, cleaner flavor.
In the case of mediterranean sea bass, meagre and sea bream, when it is farm-raised it is fattier in texture and milder in flavor because of its feed. Aquaculture feed is mainly composed of pellets or granules whose main ingredients are fish oil and fish meal, followed by minerals, vitamins, cereal grains, and vegetable proteins. As part of this, omega-3 fatty acids are also provided. Since greater control is exerted on the diet of farm-raised fish, producers can maximize the amount of omega-3 fatty acids in the fish to the point in which fatty acid levels in farm-raised fish are matched or more.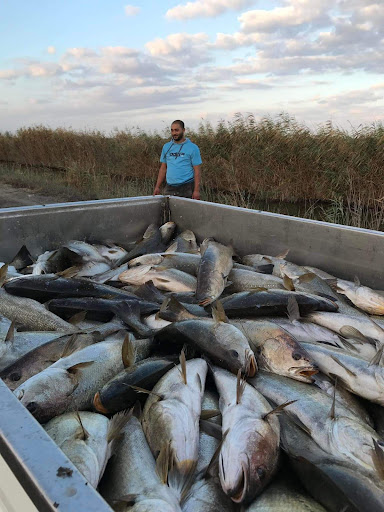 How the Blue Transformation of Aquaculture Can Affect Consumers Today
Health and Environmental Concerns
When the industry first began, the fish in aquaculture production were administered antibiotics, pesticides, and veterinary drugs which caused environmental and health problems. Today, these inputs can be minimized and fish health maximized through 'best management practices' and biosecurity such as disease prevention and control, water quality monitoring, effluent management, harvest protocol, facility cleaning and sanitization, and feed and feeding behavior monitoring.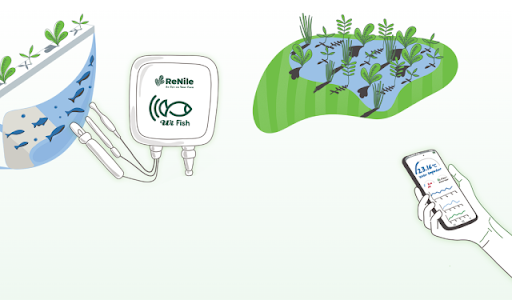 Wild fish can be exposed to mercury, other heavy metals, PCBs, and dioxins more than farmed fish because of industrial pollution in lakes, rivers, and other waterways where the fish lives. Humans can select and monitor the environmental site for aquaculture and above all can control the fish diet. Finally, wild fish are more exposed to microplastics than their farmed counterparts depending on the artificial feed used which may or may not have plastic components. The human health impact of ingesting these microplastics via farm-raised fish is unknown, but can be potentially nullified by the phasing out of fishmeal in favor of plant-based fish feeds.
Sustainability Over Time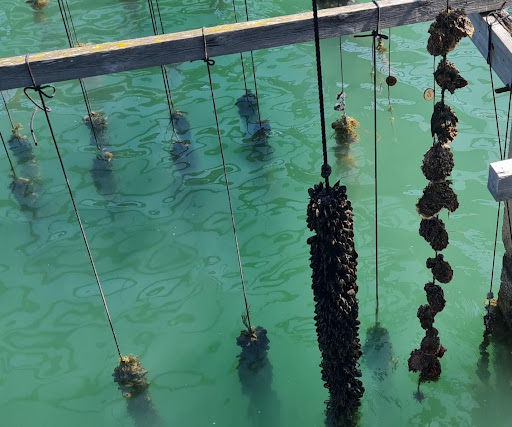 Fish have a comparatively low feed conversion ratio, the amount of feed needed to produce a kilogram of body mass. Aquacultured fish's average feed conversion ratio is around 1.6 – to -1, while the average for chicken, beef, and pork is anywhere from 2.1-to-10. This is a big improvement from 10 to 1 when the industry first began. Fish also do not require the same amount of space as terrestrial livestock, meaning that fish can be grown on marginal land where other agricultural activities cannot occur.
Shellfish aquaculture has its own set of environmental benefits because these organisms are bivalves. Bivalves, which include clams, scallops, and oysters, do not require any supplemental feed, nutrients, or chemicals to grow because they obtain their nutrition from the immediate marine environment. They also take carbon in from the atmosphere, which can aid in ameliorating climate change. Bivalve cultivation also provides ecosystem services. For example, oysters build new reef habitats for other bivalves, finfish, and algae. Therefore, when done in the right way and in the right places, commercial aquaculture can accelerate ecosystem recovery, provide sustainable seafood and green jobs in coastal communities, and fill the gap in seafood supply that stressed fisheries are creating.
How the Blue Transformation of Aquaculture Can Affect Consumers Today