Tilapia Welfare Egypt: steps towards sustainable aquaculture to ensure food security in Egypt and Kafr el Sheikh –  Tilapia welfare activities have been launched in Kafr el-Sheikh governorate, which is considered the leader in the production of this type of fish. These events are organized under the title "Tilapia Welfare Egypt", which aims to promote awareness of the importance of the welfare of tilapia fish and exchange knowledge and experiences in this important field, as tilapia fish is one of the most famous and popular fish species farmed in Egypt and the world. Egypt occupies the third place in the world in the production of tilapia fish, and Kafr el Sheikh governorate is the "National citadel of fish production" and the governorate contributes to more than 40% of Egypt's total fish production, for different species including tilapia fish.
Such a high percentage of production in Kafr el-Sheikh is due to several factors. Firstly, the governorate is characterized by long beaches stretching along the Mediterranean Sea for up to 118 kilometers, and an internal coastal area part of the Delta area which provides a rich and diverse source of fish and sites for aquaculture. Secondly, there are many consolidate fish farms and hatcheries in the governorate that work on the cultivation of tilapia in large quantities and high quality, which enhances the productivity and local and global distribution of this type of fish.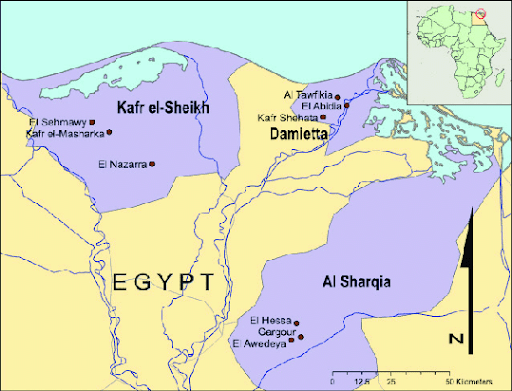 The "Tilapia Welfare Egypt" event comes as part of a series of interactive workshops organized by the Aquavet Egypt team in cooperation with ethical seafood research UK and the Faculty of Aquatics and Fisheries Science at Kafr el Sheikh University. The event aims to highlight the importance of improving tilapia breeding conditions and ensuring their welfare at all stages of their development.
The workshop include many lectures and presentations by experts and researchers in the field of fish farming and tilapia care. The lectures covered various topics such as pond design, water quality, proper nutrition, monitoring fish health, and dealing with possible diseases and injuries. They also exchanged experiences and successful experiences in the field of improving the welfare of tilapia fish and applying best practices in this regard.

Caring for the tilapia fish welfare is necessary for several reasons
Improving fish farming conditions leads to an increase in the productivity of fish farms and an improvement in the quality of fish produced. It also contributes to reducing the costs of treatment and Prevention of diseases and injuries, as training contributes to the Prevention of diseases and maintaining fish health by teaching farmers how to detect early any signs of possible diseases and injuries in tilapia, how to deal with them properly and apply the necessary prevention measures and use appropriate treatments, which enhances the sustainability of the fish farming industry.
Attention to the welfare of tilapia fish contributes to strengthening Egypt's reputation as a leading country in the production of high-quality fish. When fish are bred in a healthy and comfortable environment, they grow better, have tender meat and excellent taste. This enhances the marketing of Egyptian tilapia at the local and global levels and contributes to increasing the demand for it.
In addition, concern for the welfare of tilapia fish reflects concern for animal welfare in general and environmental sustainability. Sustainable fish farming means providing a natural environment that allows fish to live and grow naturally, taking into account the protection of Water Resources and maintaining ecological balance.
Tilapia breeding is one of the important aquaculture activities in the fish industry, and its success is due to farmers ' knowledge of the best practices and optimal care for this type of fish, as the growth and quality of tilapia is greatly influenced by environmental conditions and care provided to it. Therefore, the importance of til welfare trainings lies in achieving many benefits and improving the quality and efficiency of fish production. Tilapia welfare events have proven positive results and strengthened the governorate's and Egypt position as a leading center in tilapia production. Therefore, attention should continue to enhance the welfare of Fish and improve their breeding conditions, by adopting more attention and providing training and awareness to farmers and workers in the fish farming industry, continuous efforts and joint cooperation, it is possible to achieve welfare for fish farming and enhance its sustainability.
Tilapia Welfare Egypt: steps towards sustainable aquaculture to ensure food security in Egypt and Kafr el Sheikh