Profitable and sustainable investment in the Pearl of Africa: De Heus builds Uganda's first dedicated aquafeed plant – Aquaculture in Uganda includes onshore small-scale and industrial farming, and offshore production in the lakes. The country hosts around 20,000 basins, representing a potential sites for aquaculture and providing several opportunities for fish farming projects.
The production output in Uganda's aquaculture sector depends on the scale of operation. Smallholders and family fish farming business, typically yields around 1,500 kg per hectare per year. In addition, commercial farming can achieve a significantly higher production up to 15,000 kg per hectare per year. This production scenario highlight the potential development and profitability of aquaculture in the country.
Despite its promising prospects, Uganda's aquaculture industry faces challenges that hinder its growth. One major obstacle is the lack of availability of industrial fish feed.
The fish feed formulated in pellets are the perfect feed for rearing fish, providing everything to sustain healthy fish, the specific dietary requirement, optimizing the feed conversion rate (FCR) and feeding distribution to the aquaculture ponds or cages, and also following the international standards.
The feed conversion ratio (FCR) is a measure of feed efficiency that is used for aquaculture and it represents the number of units of 'dry' aquafeed required to produce 1 kg of fish – FCR helps the farmer to know how much amount of feed will be required in the fish production cycle. This serves as a guiding tool by letting the farmer know what choices he should make in order to maximize the profitability of his business.
The poor quality of fish feed represent a significant problem for farmers as it affects their ability to pay-back their investment in fish farming.
Without access to high-quality feed farmers struggle to achieve optimal yields and profitability.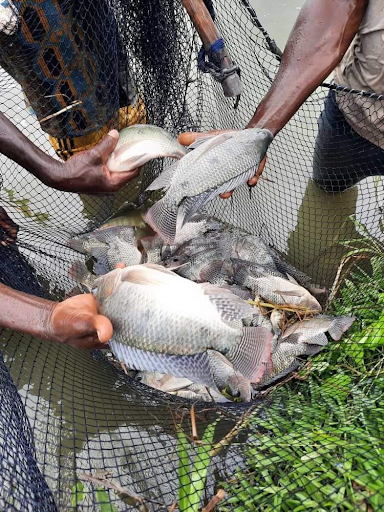 Recognizing this issue as an opportunity for improvement and investment, enterprises are beginning to show interest in the fish feed sector. Investors are keen to address the problem by introducing advanced fish feed pellet industrial production.
De Heus Animal Nutrition has started the construction of an animal feed mill with a capacity of 50,000 tonnes and the company will be able to produce 50,000 tonnes of fish feed per year, meeting the growing demand in the East African market.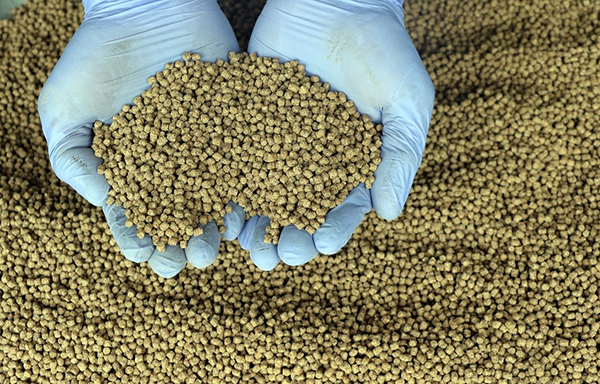 Currently, most feeds are imported. The new local factory will offer a shorter, more flexible supply chain, De Heus said.
"At De Heus we believe in the potential of Africa and that is why we are investing in expanding our footprint: in South Africa, Egypt, Ethiopia, and recently with modern factories in Ghana and Ivory Coast. And now in Uganda," said Theo Smalbraak, business group director Africa & Middle East. "The impact of this plant goes beyond employment at the facility itself. We anticipate a significant positive effect on employment among fish farmers and our suppliers, as we aim to replace imports and source raw materials such as maize, cassava, soy, and others locally as much as possible." The state-of-the-art factory should be operational towards the second half of next year.
The factory will be a big boost to the sector in for Uganda and surrounding countries.
The plant Itself will creates new employment in the feed and aquaculture sector, and furthermore De Heus will reduce the import of feed ingredients, using maize, cassava, soy and other row materials locally produced.
De Heus brings a combination of global experience & expertise together with a background in Dutch agricultural innovation.
Theo Smalbraak, De Heus Business Group Director Africa & Middle East, commented that "at De Heus we believe in the potential of Africa and that is why we are investing in expanding our presence: in South Africa, Egypt, Ethiopia, and recently with modern factories in Ghana and Ivory Coast, and now in Uganda."
About De Heus Animal Nutrition
It is a family company, established in 1911 and now run and owned by the 4th generation. With almost 100 factories in Europe, Asia, Africa and Latin America, the company has expanded fast and is in the top 10 of global feed companies. De Heus operates two global brands De Heus & Koudijs, and in Uganda aquafeed will be sold under De Heus, while other livestock feeds are sold under the Koudijs brand.
Uganda's aquaculture industry holds great potential due to its abundant natural resources and favorable conditions. However, the lack of advanced fish feed pellet mills has hindered its growth. By addressing this issue and investing in modern technology, enterprises aim to improve the quality of fish feed and unlock the full potential of Uganda's aquaculture sector.
Profitable and sustainable investment in the Pearl of Africa: De Heus builds Uganda's first dedicated aquafeed plant