The future of sustainable aquaculture: Nigerian youth take the lead
Nigeria is the second-largest aquaculture producer in Africa, with a high demand and preference for Fish among consumers and as Aquaculture is an essential source of food in Nigeria; a visit to the typical Nigerian market will present you with various fishery products, from fresh live catfish in plastic buckets to frozen fish, roasted fish, dry fish, and many more. There is a massive market for fish farmers in Nigeria, depending on the type of fish farming you wish to specialise in. It is a country with a rapidly growing population and a high demand for protein-rich foods, aquaculture has the potential to play a significant role in meeting these needs.
Nigeria has a coastline of 853 km, yet very little mariculture production. Seafood is mainly wild-caught or imported. There is a need to adapt this technology, it need more fish specialists on site, workshops and training to share this technology. Aquaculture has significant potential to reduce food insecurity, increase employment and build the economy of Nigeria.
However, the aquaculture industry in Nigeria faces several challenges, including limited access to capital and technology, poor infrastructure, and inadequate training and education for farmers. Despite these obstacles, a new generation of young entrepreneurs is taking the lead in developing sustainable aquaculture practices that can help meet the country's growing demand for fish. They focus on environmental, economic, and social sustainability to improve capacity building and utilize land effectively for the aquaculture sector.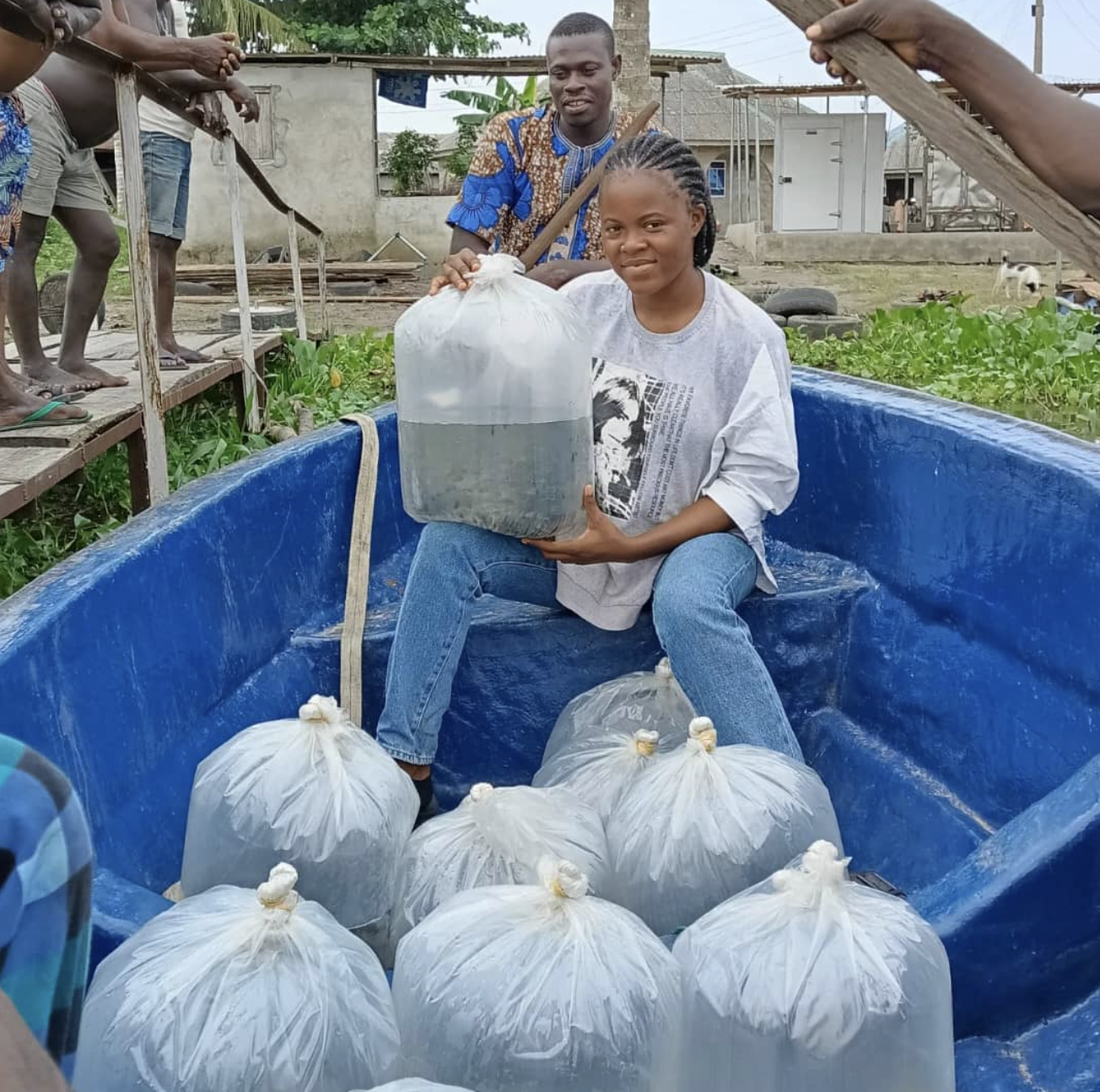 For example Samuel Paul , founder of PESCADEMY help African Youth start a career in Aquaculture & Tech Integration with all enterprise skills needed to grow and advance the adoption and commercialization of Aquaculture sector through Scholarship Courses, Tutorial Learning, Aqua-Tourism Experience, Learning and Aqua Hack Boot Camp
He said that PESCADEMY is the first of it kind social enterprise that teaches students, youth and Young women sustainable Aquaculture Farming Practices and Tech Integration and community allows to start building an Aquaculture career in the field of Agriculture and presently have over 1,500 registered for our first Aquaculture Scholarship across over 15 countries.
And he added that we offer scholarship courses, Aqua-Tourism experiences and Tutorial Learning opportunities in Aquaculture, Tech Integration and it's Value Chain technologies such as;_
Fish Morphology and Functions;
Pond Construction and Management;
Catfish Breeding and Larval Culture;
Low cost Fish Feed Technology;
Live Food Culture;
Tilapia Culture and Sex Reversal;
Aquaculture Business Strategies;
Feature Tech Related Skills of High Value in Aquaculture Businesses;
Fish Oil Derivatives Production;
Process of Making Fish Kilishi and Cracker;
Drones Application in Aquaculture.
On the other side soft hands contribute to achieving development and ending hunger in Nigeria such as Opemipo Oyebadejo, who's a senior farmer and fish expert at Orisha Farms, aims to expand the cage-based farming of tilapia and catfish in Nigeria. This girl is distinguished by persistence and passion in her work, she also has extensive experience in the field of aquaculture and project management. This girl seeks to achieve her future goals by using technology and innovations to develop her work and increase project productivity. She won the Kvaroy Arctic's global women's annual scholarship award. It's rewarding to know that somewhere in the world, a group of people care about women in the aquaculture field and that aquaculture is more than just a way of solving hunger and other socio-economic problems.

Opemipo's Journey: Empowering Women and Improving Aquaculture in Nigeria
Opemipo was acquainted with fishing and the concept of aquaculture in her upbringing in the coastal town of Badagry, Nigeria, near Lagos. She witnessed the difficulty of the profession in an area where wild fishing harvests are limited, aquaculture operations are cost-prohibitive, and professional opportunities for women are scarce.
Opemipo said that
"My role mainly involves monitoring growth and fish health. I manage the feed intake, create records to track activity and carry out water quality tests. On an average day, I get to the farm at 6.30, check the water quality parameters and supervise feeding by 9.30, followed by a break at noon before another round of feeding and water quality checks. At the end of the day I do record keeping. Other tasks include stocking, harvesting, processing and marketing."
And she added
"I hope to have my own farm that can be used as a training site for all those young women interested in aquaculture. I have a dream of sponsoring women, as the sad reality is a lot of people want to study aquaculture but can't fund themselves "
They play an important role in fish farming in the country, by contributing to the development and improvement of this sector through:
Training: interested in fish farming can receive appropriate training to develop their skills and increase their knowledge of the latest technologies and methods used in this industry.
Innovation: bring new ideas and innovations that will help improve the productivity of aquariums and the quality of the crop.
Development: participate in the development of small-scale fish farming projects, and promote these projects through the use of social media and cooperation with local communities.
Management: Nigerian youth can take over the management of fish farming projects and develop management and marketing plans for these projects.
Challenges: challenge in the field of fish farming, and look for solutions to the challenges facing this industry, such as water shortages, diseases and other problems.

Youth Empowerment in the Aquaculture Sector: Improving Quality, Supply Chains, and Marketing for Sustainable Growth
In order to improve and develop this sector in Nigeria , young people must play a pivotal role in this sector .
Firstly, They should be familiar with the latest technologies and methods used in the fish industry. Technological development is very rapid and no one can do without following the latest developments in these areas. Therefore, young people should take care to develop their skills and Increase their knowledge of the fish industry.
Secondly, They strive to improve the quality of farms and ponds used for fish farming. Quality is the main key to the success of any project, therefore, young people should work to improve the quality of farms and ponds and develop them using modern technologies.
Thirdly, They strive to develop supply chains and marketing for the fish industry. Supply and marketing are the two most important stages in the fish industry, where farmers must ensure the supply of a sufficient quantity of fish with high quality, and at the same time traders must ensure the sale of these fish at the best possible price. Therefore, young people should work on the development of supply chains and marketing of the fish industry.
Despite the human energy represented by young people to raise the value of aquaculture , considering that fish wealth represents an essential part of protein, which requires expansion In fish farming and discussing all means and axes of Increasing fish production in order to reduce fish prices, and examining the causes of the problem from roots
They should be provided with financial programs and establishing fish marketing centers, providing logistical support for fresh fish farming, encouraging the private sector to fish for high-yielding fish species, and searching for alternative feeds for fish.
The aquaculture sector Is considered one of the promising and renewable sectors to achieve economic diversification in the country, to create renewable job opportunities, and to achieve the desired economic growth if the specialized information capabilities are harnessed to assess fish stocks, and to activate the role of associations and cooperatives.
Ultimately, the role of youth in the renaissance of the aquaculture sector is to improve the quality of farms, Raising the Bar for Sustainability and their Commitment to Aquaculture".
The future of sustainable aquaculture: Nigerian youth take the lead