Octopus. Scientific awareness initiative for thousands of young people – "Octopus" is the first initiative dedicated to Egypt and the Arab region, with innovative activities and events to raise and support social awareness on the protection of water environments, biological balance, and blue food production, particularly through youth.
As expressed by Basel Ahmed, founder of the initiative:
"What inspired me the most was my love of following scientific research and publications and my goal is to develop them and make them available in the local language. As specialists and researchers, we teach in English without particular problems, but at the same time, everyone must learn by removing the problem of ignorance of other languages.
We created Octopus because we wanted to improve scientific information in Arabic to give access to all interested people".
The initiative was implemented through several actions:
working on project ideas that will contribute to increasing fish and aquatic production, environmental protection, and resilience to climate change;
meeting and training university students through the support and coordination of the Ministry of Youth and Sports;
providing interactive training, likewise online webinars, on our official page and on the official page of the Ministry of Youth and Sports;
providing consultations to investors in order to offer them technical support and creating collaboration with scientific, legal, and other competent public authorities, encouraging investments, and contributing to increasing fish production in Egypt.
The initiative contributed to the spread of science through approximately 300 scientific publications, translated from foreign languages, on fish farming, processing, packaging, fish quality and diseases, environmental protection, and the impacts on the coastal environment.
Since when the initiative was launched in March 2021, these publications have reached more than 500,000 people on their web pages until now. The main goal was not limited to online activities but also through training actions carried out in collaboration with Egyptian universities, where 4000 people benefited from Octopus's training.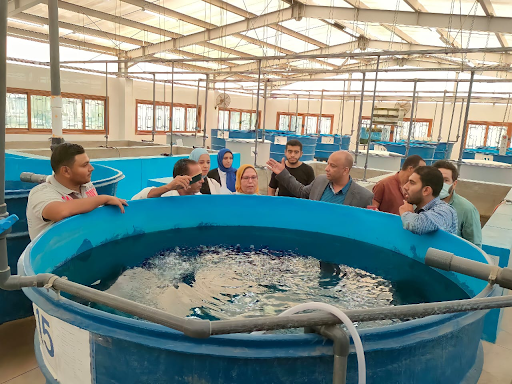 What are the goals of the initiative and what has been achieved?
To help graduates from the faculties of Aquatic and Fisheries Sciences to find a job;
To raise awareness of students on the importance of scientific research;
To contribute to raising the efficiency of the educational process and the role of community participation;
To spread environmental protection awareness.
To contribute to technological progress and economic prosperity;
To design and implement projects in different fields;
To draw the attention of youth to voluntary service and community work.
What were the biggest challenges you faced when starting the Octopus?
To gain the community's trust and give space for creativity and innovation;
Initiatives need financial and logistical support;
The continuity of the initiative and the definition of its main goals is the most important factor for its success.
Do you encourage the establishment of more of these initiatives?
We encourage the establishment of more youth community and awareness initiatives, because it contributes to the sustainable development of the country and because it may also be inspiring for other countries.
What's your ultimate ambition in the sector?
The future is made by science, work, and ambition.
For this reason, we aim to cooperate with more Institutions and partners inside and outside Egypt to increase financial support for the implementation of events, provide youth with effective tools to face difficulties, and cooperate with more international entities to form an international scientific network.
Octopus. Scientific awareness initiative for thousands of young people