An equation quantifies the impact of bottom trawling – Bottom trawling continues to be the subject of controversy, a method of catching a quarter of the fish caught in the wild, but according to some, with a strong environmental impact on the seabed.
This is where science comes in, whose job it is to measure the real environmental impact so that policymakers and decision-makers can make the right considerations.
An open access paper made available in 2016 by an international team of researchers outlined how to quantify the impact of trawling on the seabed. Several years later in the authoritative PNAS, a research conducted by the same team of researchers provides the results of that method applied to 24 regions worldwide.
In the first phase of the research, an equation was used to quantify the relationship between population growth and recovery rates of affected species, trawl size and frequency, and other measurable parameters such as gear types. The equation produces the relative benthic status (RBS) a unit between 0 and 1 where 0 is totally depleted and 1 is not fished.
An RBS score of 0.95 could therefore be interpreted as the seabed habitat at 95% of its unfished state.
This means that scientists and policy-makers finally have a quantified basis with which to make management decisions.
But what is the state of the ocean floor?
In the new publication, researchers report the RBS of 24 major marine regions around the world. In the figure below you can see how the different regions compare. 15 of the 24 regions show an RBS above 0.90; places such as Australia, New Zealand, the United States, Chile and South Africa all performed well, while Europe was a mix. The Adriatic Sea showed a reduced RBS in the regions measured.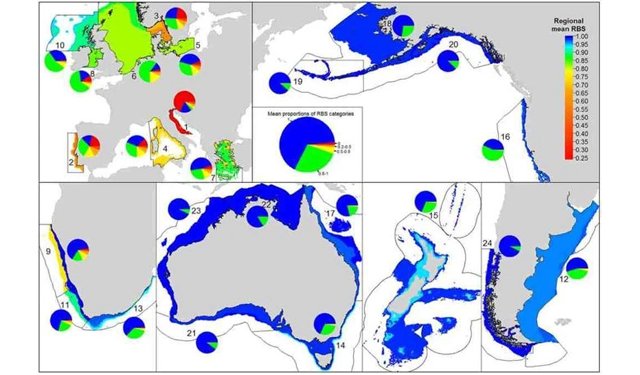 "The results show that effectively and sustainably managed trawling is associated with regions with a high seabed status of 0.95 or higher," lead author of the research, Dr Roland Pitcher, said. "Regions with low seabed status scores were places where fish stocks are typically overexploited and have ineffective management regimes," Pitcher added.
This research is undoubtedly an important step towards a comprehensive overview of the global impact of trawling on the seabed.
An equation quantifies the impact of trawling