Mangrove forests in Tanzania – Mangrove forest occurs from the border with Kenya to the north to that of Mozambique in the south and fringes many of the islands off the coasts. The main concentration is in the Rufiji delta. Since the beginning of the Century, Tanzania's mangroves have been a territorial (state) forest reserve, but this has generally not prevented their use by coastal communities.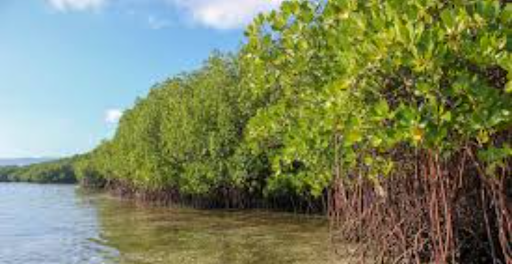 Mangroves offer shelter, food and breeding grounds for a large variety of fish, shrimps and oysters for at least part of their life-cycle. Villagers who depend on fishing are generally aware of this relationship. Mangroves provide an alternative source of food (herbs, honey, fodder), income and employment for the local fishing communities who use different mangrove species for fuelwood, fences, house construction and boat building, for making fish traps, and for tannin and for medicinal purposes (Nagelkerken et al., 2000).
Mangroves stabilize the coastline, protecting it from erosion. Unlike man-made coastal defences, mangroves maintain themselves at no cost. They prevent the siltation of coral reefs by trapping sediments and build land through the accumulation of silt and detritus, and absorb pollutants washed from the land.
Types of species found in Tanzania
The ten species of mangroves are found in Tanzania according to (Adelaida et al., 2000) and Conservation and management of these forests are guided by Forestry policy and Forestry Act of 2003 of the mainland and Environmental policy for Zanzibar.
| | | | |
| --- | --- | --- | --- |
| No. | Tree species | Family | Local name |
| 1 | Avicennia Amarina | Verbenaceae | Mchu |
| 2 | Bruguiera gymnorrhiza | Rhizophoraceae | Msinzi or muia |
| 3 | Ceriops tagal | Rhizophoraceae | Mkandaa |
| 4 | Heritiera littoralis | Sterculiaceae | Msikundazi or mkungu |
| 5 | Lumnitzera racemosa | Combretaceae | Kikandaa or mkandaa dume |
| 6 | Rhizophora mucronata | Rhizophoraceae | Mkoko |
| 7 | Sonneratia alba | Sonneratiaceae | Mililana |
| 8 | Xylocarpus | granatum Meliaceae | Mkomafi |
| 9 | Xylocarpus molluccensis | Meliaceae | Mkomafi dume |
| 10 | Pemphis acidula | Lythraceae | Mkaa pwani |
Mangrove Tree Species in Tanzania according (Semesi and Adelaida 2000)
Mangrove Conserving in Tanzania
Tanzanian law strictly protects mangroves given that they are the property of the State. Though the government initially encouraged people to settle in the Delta in the early 1970s, strict protection means local women aren't supposed to collect firewood from the forest (though they often do) and every December through January since the 1990s, agents from the Tanzanian Forest Service (TFS) have burned farmers' temporary stilt huts (madungu) and new rice farms, in an attempt to discourage further deforestation. Rufiji's population is growing. Locals increasingly rely on mangrove products for their livelihoods, and allow outsiders to come in and illegally harvest timber and charcoal to sell in the capital. Massive flooding in the 1990s changed the river's course, expanding the area suitable for rice farming – while immigration into the delta has simultaneously increased demand for agricultural land.
Challenges faced mangrove forest
Clearing: Mangrove forests have often been seen as unproductive and smelly, and so cleared to make room for agricultural land, human settlements and infrastructure (such as harbours), and industrial areas. More recently, clearing for tourist developments, shrimp aquaculture, and salt farms has also taken place. This clearing is a major factor behind mangrove loss around the word (York, 2001);
Overharvesting: Mangrove trees are used for firewood, construction wood, wood chip and pulp production, charcoal production, and animal fodder. While harvesting has taken place for centuries, in some parts of the world it is no longer sustainable, threatening the future of the forests (Semesi, 1998);
River changes: Dams and irrigation reduce the amount of water reaching mangrove forests, changing the salinity level of water in the forest. If salinity becomes too high, the mangroves cannot survive. Freshwater diversions can also lead to mangroves drying out. In addition, increased erosion due to land deforestation can massively increase the amount of sediment in rivers. This can overcome the mangrove forest's filtering ability, leading to the forest being smothered (TCMP, 2001);
Overfishing: The global overfishing crisis facing the world's oceans has effects far beyond the directly overfished population. The ecological balance of food chains and mangrove fish communities can also be altered (Semesi, 1998);
Destruction of coral reefs: Coral reefs provide the first barrier against currents and strong waves. When they are destroyed, the stronger-than-normal waves and currents reaching the coast can undermine the fine sediment in which the mangroves grow. This can prevent seedlings from taking root and wash away nutrients essential for mangrove ecosystems (Semesi, 1998);
Pollution: Fertilizers, pesticides, and other toxic man-made chemicals carried by river systems from sources upstream can kill animals living in mangrove forests, while oil pollution can smother mangrove roots and suffocate the trees (Wagner, 2003);
Climate change: Mangrove forests require stable sea levels for long-term survival. They are therefore extremely sensitive to current rising sea levels caused by global warming and climate change (Wagner, 2003).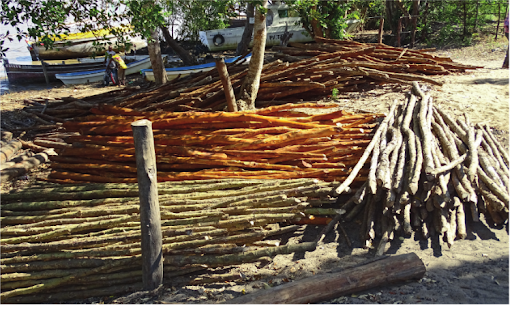 Conclusions
Mangrove Forests is the resources harvested from mangrove habitat and their resulting products are an important economic and ecological resource in Tanzania. It is estimated that over 150,000 people make their living directly from mangrove resources (TCMP, 2001).
Therefore, there is a need to enhance community participation in mangrove management all villages along coastal area should participate in the entire exercise of mangrove forest conservation through conservation, protection, and sustainability in harvesting mangrove forest.
There is a need to introduce income generating activities and improvement on agriculture production in term of good extension services to the farmer by supply of farm input like good seed fertilizer and other agrochemicals so that the market for agriculture product to be reliable on communities surrounding mangrove ecosystem in order to reduce dependence from mangrove ecosystem as the only source of income
Education of and creation of awareness on the importance of mangrove is needed to the district since majority found with law level of education.
Good governance such as on the land regulation about beach plot for tourist hotel construction and department of marine in relation to the area of salt production in permission and licensee.
Mangrove forests in Tanzania